Companies Are Regressing On DEI And It's Hurting Their Performance
Organizations may be more at risk of losing their highly talented women and minority leaders than they realize, according to a new report by global leadership consulting firm DDI.
DDI's Diversity, Equity and Inclusion report found that hat many companies are regressing in their DEI programs. Stephanie Neal, director of DDI's Center for Analytics and Behavioral Research, told The Business Journals that these decisions are having a knock-on effect on talent retention and company performance.
"With the stress of economic uncertainty and labor challenges, companies have turned their attention away from DEI toward these urgent issues, but that has left many leaders, especially those who are women and from minority racial and ethnic backgrounds, questioning their company and role," she said.
"If companies don't act now to rekindle and reinvest in their DEI programs, the loss of talent will have a profound impact on future business success."
Between 2020 and 2022, companies without DEI programs increased from 15% to 20% and leaders' endorsement of their company's DEI efforts decreased by 18%
The report found that women and minority leaders are significantly more likely to leave their companies to advance in the workplace, and were especially susceptible to burnout caused by professional anxieties.
High-quality DEI programs not only serve to recruit a more diverse workforce, but enable talent from all backgrounds to perform at their best on daily basis.
Despite this, the number of companies without DEI programs has increased from 15% in 2020 to 20% in 2022. During this period there has also been an 18% decrease in leaders' endorsement of their company's overall DEI efforts.
Read: The Business Case For Diversity Reporting Just Got More Convincing
Companies are losing out on more ways than one
Companies with above-average diversity are 2.4X more likely to outperform their peers financially, the report found. Moreover, organizations that develop high-potential leaders from diverse backgrounds are:
11X more likely to have high-quality leaders overall
10X more likely to have a strong leadership bench
4X more likely to have leaders who understand and act on changing customer needs and perspectives
3.2X more likely to engage and retain top talent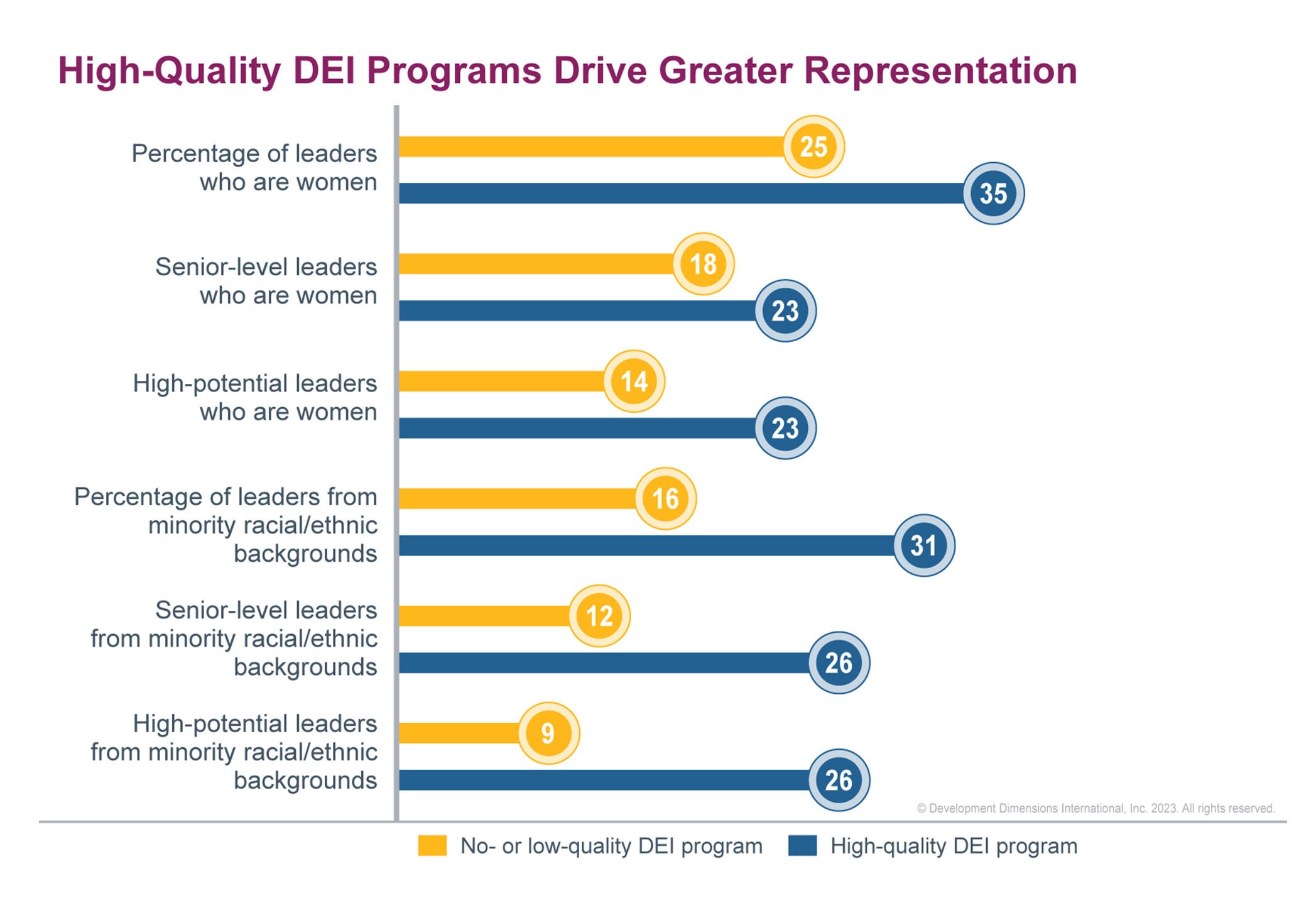 5 Crucial Components for DEI Success
The report identified five crucial components adopted by companies with successful DEI strategies.
DEI is a clear priority, backed by high-quality DEI practices. In addition to support from top executives, successful DEI programs require putting practices into place that integrate inclusion into the company's day-to-day.
Leaders have strong interpersonal skills, including empathy. Diverse talent is unlikely to stay if their leaders do not have the interpersonal skills to make them feel like they belong, are valued, and have a future at the organization.
Proactively recruiting high-potential talent from diverse backgrounds. Building a strong leadership pipeline requires an organization to think more broadly in defining leadership potential to include a range of skillsets, mindsets, and perspectives.
Senior leaders build trust with employees. This means following through on promises, practicing transparency, and building trust as part of the way they do business, not just in relation to DEI matters.
Coaching for growth. Instead of thrusting people into roles they aren't prepared for, organizations should develop coaching capabilities across their organization to ensure people get the feedback and support needed to grow into new opportunities.
You can read the Diversity, Equity, and Inclusion Report 2023 here.