These Black-Owned Apps Will Improve Your Life
This week we rounded up 8 Black-owned apps to improve your day-to-day. From an app to help you find other black businesses, a social network exclusively for people of color, and apps to help you with your mental health. Support these Black founders who are providing the tech to boost your day.
ICYMI check out this list of Black founders who have created apps to improve your business and career.
Take Care of Your Mental Health
Originally launched as a messaging bot that gave out life advice and motivation in real-time, Shine has now grown over the years to become a larger self-help platform aimed mainly at the millennial crowd. Now you can prioritize your self-care and mental health with the Shine app. The app also sends users daily motivational messages and meditation sessions. Part of Shine's success has come from its ease and accessibility. It talks to you like a friend who understands the highs and lows of everyday life.
In honour of the movement, Mental Health is a Human Right, 20% of the money from Shine Premium subscriptions will go to nonprofits supporting BIPOC mental health: the Black Emotional and Mental Health Collective (BEAM), the National Queer and TransTherapists of Colour Network, and the Foundation for Black Women's Wellness. In 2019 Shine announced $2.5 million in seed funding and had surpassed over half a million users in its first year. In 2020 Shine was named one of Apple's best apps for mental health and wellness.
Take Back That Text Message
Who hasn't sent that text that we immediately regret sending? Now there's an app that makes regretting text messages a thing of the past. Founded by Maci Peterson, after making one of those mistakes with an ex-boyfriend, Maci searched the APP store that would let her take back sent messages. When she couldn't find one, she decided to create it, and investors wanted in on it. Backed by $1 million-plus in capital, On Second Thought has grown its product offerings. While this app allows users to cancel or edit a text message for up to 60 seconds after they press send, it also eliminates the issue drunk texters face with a curfew mode, which holds all text messages until the following day for your sober review.
Shop Black-Owned Businesses
Dubbed the Black Amazon, We Buy Black was started in 2015 by Abdul-Malik with just $15,000. Abdul-Malik brought to life his genuine passion for helping his community by creating a first-of-its-kind online marketplace. Today, it's the largest e-marketplace for Black-owned businesses. Find everything you want and need from Black-owned businesses online and keep your money within the Black community to directly affect change.
Not only is WeBuyBlack is a marketplace, but also a business development and resource center. WeBuyBlack offers monthly grants starting at $2,000 and continues to build and solidify partnerships with nonprofit organizations and donors. WeBuyBlack is not just a global marketplace facilitating sales all over the world, and it's also a movement. In just under six years, We Buy Black has created an entirely Black, independent economic ecosystem. Companies and careers have been launched because of the platform, and much more is sure to come.
Join a Social Media Network for People of Color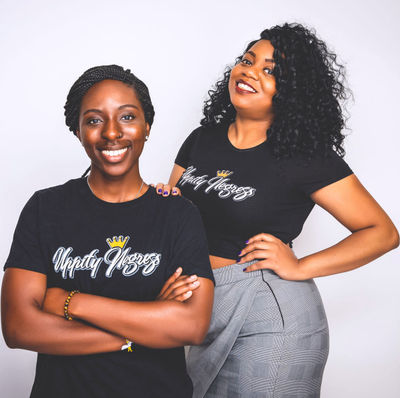 The idea for The Cookout app started in Oct 2019 with just $3,000 and a vision. The first-ever invitation-only social media app exclusively for members of the Black community. For years, audiences across the Black diaspora have legitimized and made social media platforms like Instagram, Twitter, TikTok, and now ClubHouse worth billions. However, none of these platforms are Black-owned —until The Cookout.
Created by three LBGT+ Black women who grew tired of being targeted and abused online, The Cookout is an invitation-only social media app. As the company's site declares, the app is where 'Blackness is celebrated, not tolerated. According to co-founder Kiki Bryant, it has over 7.5k users on our MVP in a year with organic, word-of-mouth promotion from a small community of loyal followers.
Find New Black-Owned Restaurants
Eat Okra was founded by a husband and wife duo and first launched in Brooklyn in 2016, EatOkra helps you discover Black-owned restaurants and eateries across the country. The pair launched the app to uplift Black business owners, celebrate food as the centerpiece of Black joy and provide comfort to Black communities across the US.
The app makes it easy to locate and support Black food entrepreneurs. EatOkra is the first directory of Black-owned eateries (in the US) The app features over 2,500+ restaurants and allows you to search by cuisine and location. If you need delivery, EatOkra has options to connect you to third parties devilry services like GrubHub and DoorDash.
Bring the Barbershop to You
Darren set out to do something innovative and came up with the unique idea of creating a mobile barbershop by renovating the back of a van. The main idea was that through the TRIM-IT app, customers would book a mobile barbershop to their home, office, or even the gym. TRIM-IT barbers would make more than the average barber, as customers would pay more for the convenience. Darren and his founding team created the business during their studies at the University of Sussex. They entered a business competition-winning £10,000 to launch the company.
The first mobile barbershop was an instant success. Last year, after the first UK lockdown, TRIM-IT saw almost a 300% increase in sales. At one point they had a waiting list of over 7,000 men across London. According to Forbes, the team has recently raised $1.1 million to scale out this franchise model. The company has big ambitions and intends to scale up to 2,500 vans across Europe and the U.S
Find a Therapists of Color
Ayana is connecting people of color with therapists of the same background — including race, ethnicity, gender, religion, and sexual orientation. Senegalese-American Eric Coly founded Ayana after his own experience battling depression and anxiety. He also watched people in his community struggle to find a therapist who could understand their culture. Coly soon became aware of the benefits of speaking with a therapist of similar background, and he decided to work on a solution.
Ayana, which means "mirror" in Bengali, symbolizes the app's mission: matching users with someone who can truly see and understand who they are, where they're from and how their race or ethnicity ****impacts their life's experiences.
Discover Your Unique Hair Care Journey
Myavana's mobile platform is one of the most knowledge-filled hair care apps. This Atlanta-based beauty tech company, founded by Candace Mitchell Harris uses AI technology and virtual consultations to provide personalized hair care guidance. Myavana offers guidance to each subscriber based on their hair needs and to help fulfill natural hair goals.
The Myavana Hair Journey gives subscribers access to hairstyle galleries, product advice, and tips via direct communication with the Myavana team of haircare professionals. Get professional hair advice for your tresses at your fingertips.