SVB 'Wokeness' Rhetoric Is A Distraction From The Real Issues Diverse Founders Face
Silicon Valley Bank's (SVB) collapse has reignited debates about whether the US government is doing enough to regulate financial institutions – but another debate is brewing.
Here's an excerpt from a Wall Street Journal opinion piece published on March 12:
"Was there regulatory failure? Perhaps. SVB was regulated like a bank but looked more like a money-market fund. Then there's this: In its proxy statement, SVB notes that besides 91% of their board being independent and 45% women they also have "1 Black," "1 LGBTQ+" and "2 Veterans." I'm not saying 12 white men would have avoided this mess, but the company may have been distracted by diversity demands."
Yes, you read that correctly.
Blaming 'wokeness'
This rhetoric is echoed by right-wing media outlets and Republican lawmakers who have labeled SVB a "woke" bank. House Oversight Committee chairman James Comer, Governor Ron DeSantis, and Donald Trump Jr were among those blaming "wokeness."
Nonetheless, it is Jay Ersapah, head of Financial Risk Management & Model Risk and co-chair of the LGBTQ+ ERG, that has been the target of online attacks. Ersapah, however, is based in the UK, and there is no evidence that her role had anything to do with the bank's failure.
It is true that SVB was recognized for its commitment to Diversity, Equity, and Inclusion (DEI) and had just celebrated its fifth consecutive year on Bloomberg's gender equality index.
Forbes also reports that SVB was recognized as one of the few banks that would provide credit and loans to founders historically turned away from traditional banks – but the terms were not always favorable.
The collapse of SVB was likely caused by a combination of factors that have little to do with "wokeness" such as rising interest rates, a drop in VC funding, SVB's relationship with accounts with looser regulations, long-term bets, and more.
What does this mean for diverse founders?
"The Wall Street Journal op-ed released today opined that the SVB Board of Directors focus on diversity might have caused the oversight," Cheryl Campos, the co-founder of VCFamilia, wrote on LinkedIn.
"In reality, it's the complete opposite. The venture ecosystem's systemic risk was the lack of diversity (including diversity of thought) that was showcased by this catastrophe."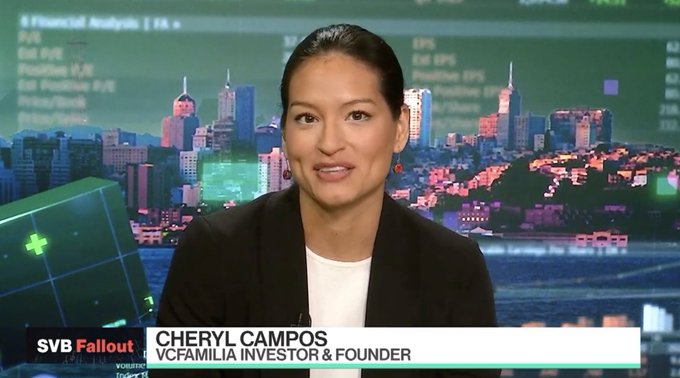 SVB was VCFamilia's founding sponsor, helping them build their pipeline for Latine founders and investors. While SVB depositors can now access their money, founders and investors who banked with SVB will now need to access new capital and leadership.
The hard work continues
"This will be a grueling period for founders and VCs alike, but diverse founders and VCs will be hit disproportionally," Campos continued.
"They were tragically underfunded when times were good & capital was flush and they will have even less access to capital going forward."
"They were tragically underfunded when times were good & capital was flush and they will have even less access to capital going forward. We call on partners to come together and support this work as we are launching direct capital programs in Q2/Q3 for diverse fund managers and founders."
In this vein, the non-profit organization All Raise is collecting information about founders and investors impacted by SVB's collapse to reveal the extent to which diverse communities were affected.
In an ecosystem where Black startup founders receive a mere 1%, and Latine founders 1.2%, of total VC funding, we cannot afford to let "wokeness" rhetoric become a distraction.