These VCs Are Leading The Rise In African Startup Investment
Venture capital (VC) investment in African startups has seen a 33% increase compared to this time last year, according to gathered by The Big Deal.
This follows similar reports of funding for African startups hitting new records in the first half of 2022.
So far this year, more than 800 investors have contributed to at least one $100K+ startup deals on the continent.
Investors have also been far more active than in previous years. For example, 250 firms made at least two investments (45% more than in 2021), and 60 partook in a minimum of five deals (a 48% annual increase).
Who are Africa's top investors?
Leading the charge on this increased investment for the second year in a row is Launch Africa. The pan-African VC fund's primary aim is to tackle the "significant funding gap in the Seed and pre-Series A investment landscape in Africa."
The Mauritius-based firm boasts an impressive and diverse portfolio with investments in all areas of tech, big data, and logistics.
They have participated in at least 50 deals in 16 different African nations this year alone, with their latest investments including the play-to-earn mobile game Skrmiish.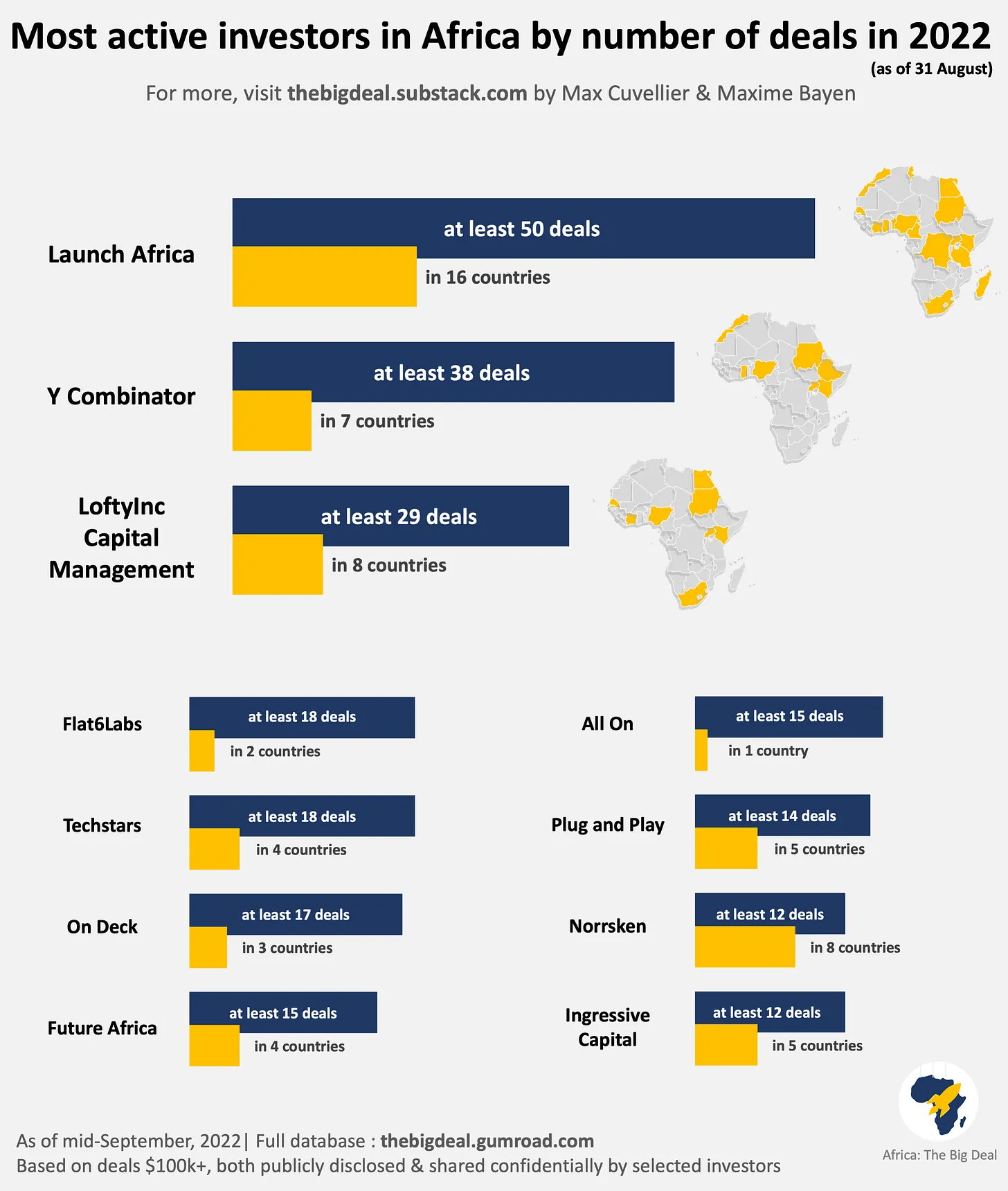 Y Combinator (YC) and LoftyInc Capital Management follow closely behind Launch Africa, with at least 38 and 29 deals, respectively. Completing the list of Africa's top investors are the following eight firms: Flat6Labs, Techstars, On Deck, Future Africa, All On, Plug and Play, Norrsken, and Ingressive Capital, who contributed to an average of 15 deals each.
Over half of all the investors mentioned (C, Flat6Labs, Techstars, On Deck, Plug and Play, and Norrsken) also double as accelerator programs, supporting businesses beyond capital to ensure they get the most out of the investments.
Beyond the Big Four
Half of all the investments in startups outside the so-called Big Four have come from Launch Capital.
The Big Four refers to the countries that account for more than 70% of VC investment in Africa: Nigeria, Kenya, South Africa, and Egypt.
Of the firms who have invested in African startups this year, all but one made at least three investments in Nigeria. Moreover, all but two have made at least one investment in Kenya, and around half have seen some activity in Egypt, South Africa, Uganda, and Ghana.