This NASA Engineer Is Making Space More Inclusive… Through Sneakers
Sabrina Thompson, a NASA aerospace engineer and founder of streetwear brand Girl In Space Club (GISC), is using her passion for sneakers to ignite the curiosity of young minds in science, space, and technology.
The 38-year-old's initiative, STEMulating Art, is bridging the gap between creativity and technical skills for young minds.
Designing a pair of kicks for the moon
Thompson noticed that while kids were excited to meet a rocket scientist like herself, they had trouble connecting with the technical aspects of her work. Determined to bring space exploration down to earth, she created STEMulating Art.
In STEMulating Art workshops, third to sixth graders are challenged to design sneakers that astronauts can wear on the moon's surface. As a result, they are introduced to key scientific concepts in creative and relatable ways.
"With Newton's Law of Motion, when you think about how you're moving, you think about your feet," Thompson explained in an interview with Nice Kicks.
"You're walking, running, dancing, or whatever. We literally break that concept down with the kids and talk about how moving on Earth is different than moving on the Moon, based off Newton's law."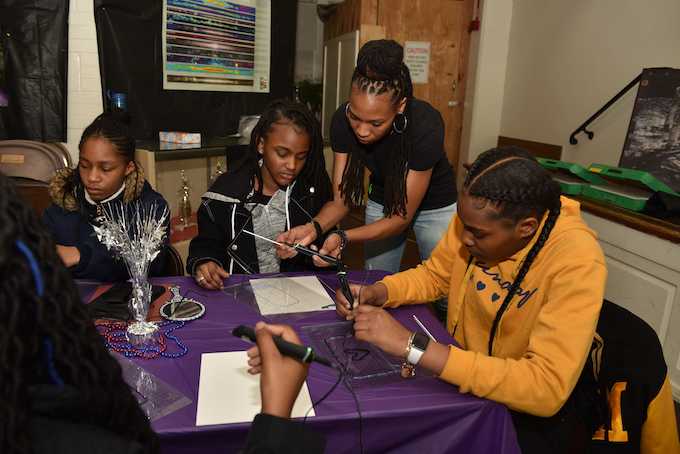 The kids are encouraged to come up with their own ideas of what it means to explore the moon's surface and decide how their sneakers allow them to do so.
"The only thing they can't do is design another pair of sneakers that already exist. It has to be something that's innovative. It has to be something that you use to demonstrate your understanding of the laws. The kids come up with the wildest ideas. I want them to keep that energy and foster it."
Thompson's workshops primarily target young girls, challenging the misconception that girls are not interested in STEM.
"If you want more girls to be included, you have to meet them where they are," Thompson added. "When you include women and more people of color, the creativity will be [limitless.]"
Her journey to NASA
The New York native grew up in Long Island playing basketball, collecting sneakers, and drawing. She told Nice Kicks that she can still remember her first pair of Jordans – the iconic 1996 Air Jordan 11 Playoff" or Bred 11s.
"As a kid, I had aspirations of becoming a famous artist or basketball player in the WNBA," she said in a NASA interview. "I was the valedictorian of my high school and had no clue about what I wanted to study in college. It was my high school art teacher who suggested, since I was good in math and science, that I should consider pursuing a degree in engineering."
Trusting her teacher's guidance, Thompson embarked on a path that eventually led her to NASA where, as a flight dynamics engineer, she designs orbit trajectories for space missions.
In 2018, she launched GISC to make STEM 'fun and fashionable' through art, a book series, space-related streetwear and merch, and the STEMulating Art program.
First-ever women's space travel suit
Last year, Thompson ran a successful Kickstarter campaign, she raised $80,000 for GISC develop the first-ever space travel suit designed by women, for women.
According to the UN, only 1 in 5 space industry workers are women, and has stayed at this level for the last 30 years. The current flight suits used by NASA are based on patterns from the 1960s and weren't designed designed with women in mind,
"I remember some guy asking me, 'What's wrong with the flight suits?'" said Thompson. "And not to bash anybody, but it's just not a problem men face."
The flight suit is currently being tested by Hypatia I, an all-women astronaut crew, on their analog mission to the Mars Desert Research Station in Utah.