Spotlighting Indigenous Leaders In Tech On Indigenous Peoples' Day
Every year, on the second Monday in October, the US commemorates Indigenous Peoples' Day to honor and celebrate Indigenous communities' rich cultures, traditions, and contributions.
Here, we shine a spotlight on some remarkable Indigenous leaders who are pushing the boundaries of tech and inspiring the next generation.
1. Robin Máxkii: Tech Creative And Storyteller
Robin Máxkii is a tech creative, filmmaker, writer, and student advocate renowned for her efforts to broaden Indigenous participation in tech and education.
Máxkii was raised in Houston, Texas, after living in the Stockbridge-Munsee community in Shawano County, Wisconsin. She taught herself to code and build websites using a library computer and started her own Native Notes to write about Indigenous issues. But her life took a turn when an anonymous reader suggested she go to college.
Máxkii attended two tribal colleges Diné College and Salish Kootenai College, and went on to organize the first collegiate hackathon for Advancing Indigenous People in STEM (AISES).
Máxkii has spoken on technology access and Indigenous inclusion from the White House to the UN, co-hosted PBS series "Codetrip", and her advocacy work was documented in a Google film titled "Between Worlds".
2. Aaron Yazzie: Engineering for Space Exploration
Aaron Yazzie, a Mechanical Engineer at NASA's Jet Propulsion Laboratory, specializes in designing mechanical systems for NASA's robotic space research missions, primarily focusing on Mars exploration.
He contributed to missions like the Mars Science Laboratory "Curiosity" Rover and the Mars 2020 "Perseverance" Rover, where he was the lead engineer for the Rover's drill bits used to search for ancient microbial life on Mars.
Beyond his engineering feats, Yazzie passionately promotes STEM outreach among Indigenous youths and was honored for his efforts in inspiring and educating Indigenous communities. Yazze is Diné (Navajo), from a small community bordering the Navajo Nation in Northern Arizona.
"As Navajo children, we are told stories of how all those land forms and constellations in the sky came to be, because we are taught it is important to know your origins: both your own existence and the land you inhabit," he told NASA.
"I realized the space exploration we do is all an expansion of my childhood lesson: to better understand our own existence in this world, and the universe that created us."
3. Danielle Boyer: Robotics Inventor And Educator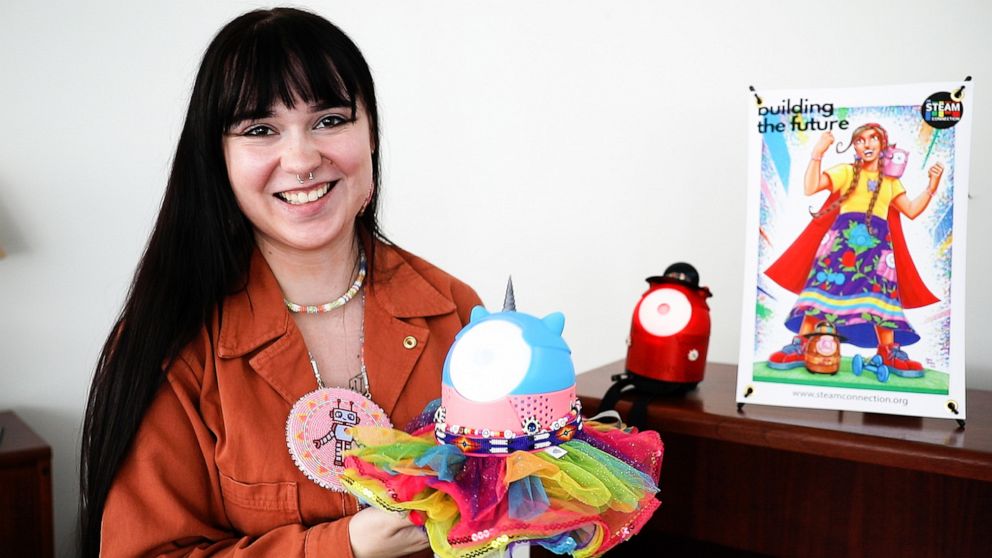 Danielle Boyer is a robotics inventor on a mission to make education accessible and inclusive for all.
At the age of 18, she founded The STEAM Connection, a charitable organization that provides free robotics kits to Indigenous youth, fostering technical competency and understanding.
Using traditional knowledge, The STEAM Connection aims to uplift and protect Indigenous communities with an emphasis on language. Her goal is not necessarily to get youth into STEM careers but rather to equip them with the skills to solve the problems that they see in their communities now.
Her most recent invention, the SkoBot, is a personalized, wearable, and interactive Indigenous language revitalization robot that senses motion and speaks.
Boyer is Ojibwe, an enrolled citizen of the Sault Ste Marie Tribe of Chippewa Indians (also referred to as the Sault Tribe) – a federally recognized Tribe. 
4. Nicole Aunapu Mann: The First Indigenous Woman in Space
Nicole Aunapu Mann, a member of the Wailacki tribe, became the first Indigenous woman to travel to space in October 2022.
After graduating from Stanford University, she received her masters in mechanical engineering from Stanford University. She is registered with the Wailacki of the Round Valley Indian Tribes.
Not only has she broken records as the first Native American woman to travel to space, but as NASA's SpaceX Crew-5 mission commander, she is also the first woman to serve as commander of a NASA Commercial Crew Program launch.
5. Matthew Yazzie: Indigenous rights advocate and organizational and behavioral scientist
Matthew Yazzie is an Indigenous rights advocate and organizational and behavioral scientist focusing on workplace trauma, discrimination, and harassment. He is also the founder and CEO of the nonprofit Others Project, the first real-time, consolidated, and open-source initiative dedicated to Diversity + Inclusion data.
Yazzie grew up in the Navajo Nation in Northwest New Mexico. He studied Computer Science at San Juan Community College before transferring to Stanford University for his Bachelor's degree in Management Science and Engineering.
Yazzie is the Head of Operations Consultant at Natives Rising. He also serves as an Advisor to the Board for Project Include and an Advisor to Spot, a company creating AI reporting tools that makes it safer for employees to speak up on issues of harassment and discrimination.