Latino-Owned EVEN Empowering Artists To Sell Directly To Fans And Provide Exclusive Access Secures $2.2M
EVEN, a creative platform that enables artists to sell their music directly to fans, has closed a $2.2 million seed round led by CSA Partners.
Mag Rodriguez founded the platform last year to help Black and brown artists retain equity in their creative work. The blockchain-based direct-to-consumer platform allows artists to sell their music directly to their fans before uploading their music to streaming platforms.
When fans purchase music, they can get access to it one to two weeks before they drop on streaming platforms, as well as exclusive content, merchandise and access to events.
Rodriguez launched the MVP in October and the platform currently in beta. Ad-free and free to use, EVEN generates revenue by charging transaction fees and is built on the blockchain to provide more transparency regarding such transactions.
Bringing equilibrium to the music industry
In high school, Rodriguez managed Milwaukee-based artist IshDARR, and after graduating they toured nationally and internationally with popular artists like ScHoolboy Q and Post Malone.
"I've been an entrepreneur since a very young age," Rodriguez  told the Wisconsin Inno. "I grew up on the south side of Milwaukee — I called it being a hustler."
He spent the next few years managing other artists and owning a record label During this time, Rodriguez noticed that Black and brown artists struggle to get properly credited and compensated for their work, and fans struggle to keep up with the costs of their supporting favorite artists.
This idea of equilibrium- the fans benefit, the artists benefit, the labels benefit. The distribution companies benefit. Even the streaming platforms benefit.
"Some of the biggest artists on the planet are Black and brown, but the companies that service them are not being led by people who look like them, hence this big issue of artists not getting paid enough or being paid daily," Rodriguez said in an interview with TechCrunch.
"I built what I needed, and I built what my peers needed," Rodriguez explained in another interview with MKE Startup. "This idea of equilibrium- the fans benefit, the artists benefit, the labels benefit. The distribution companies benefit. Even the streaming platforms benefit because they get a new metric."
Getting money for ideas
Rodriguez joined gener8tor in 2018 to run an accelerator program for musicians. It was at gener8tor that Rodriguez learned about the VC industry.
"This idea that you can get money for ideas really drew me," Rodriguez told the Wisconsin Inno. "I was like, 'I have ideas.'"
Rodriguez was having lunch with gener8tor co-founders when they asked about his ideas for his own startup. Rodriguez pitched the concept, and Rodriguez eventually left gener8tor with a $100,000 investment to launch EVEN.
"EVEN pays artists and teams INSTANTLY after each transaction, empowering artists to take control of their financial stability and seize opportunities as they arise without having to rely on advances or unfavorable record deals," he wrote on LinkedIn.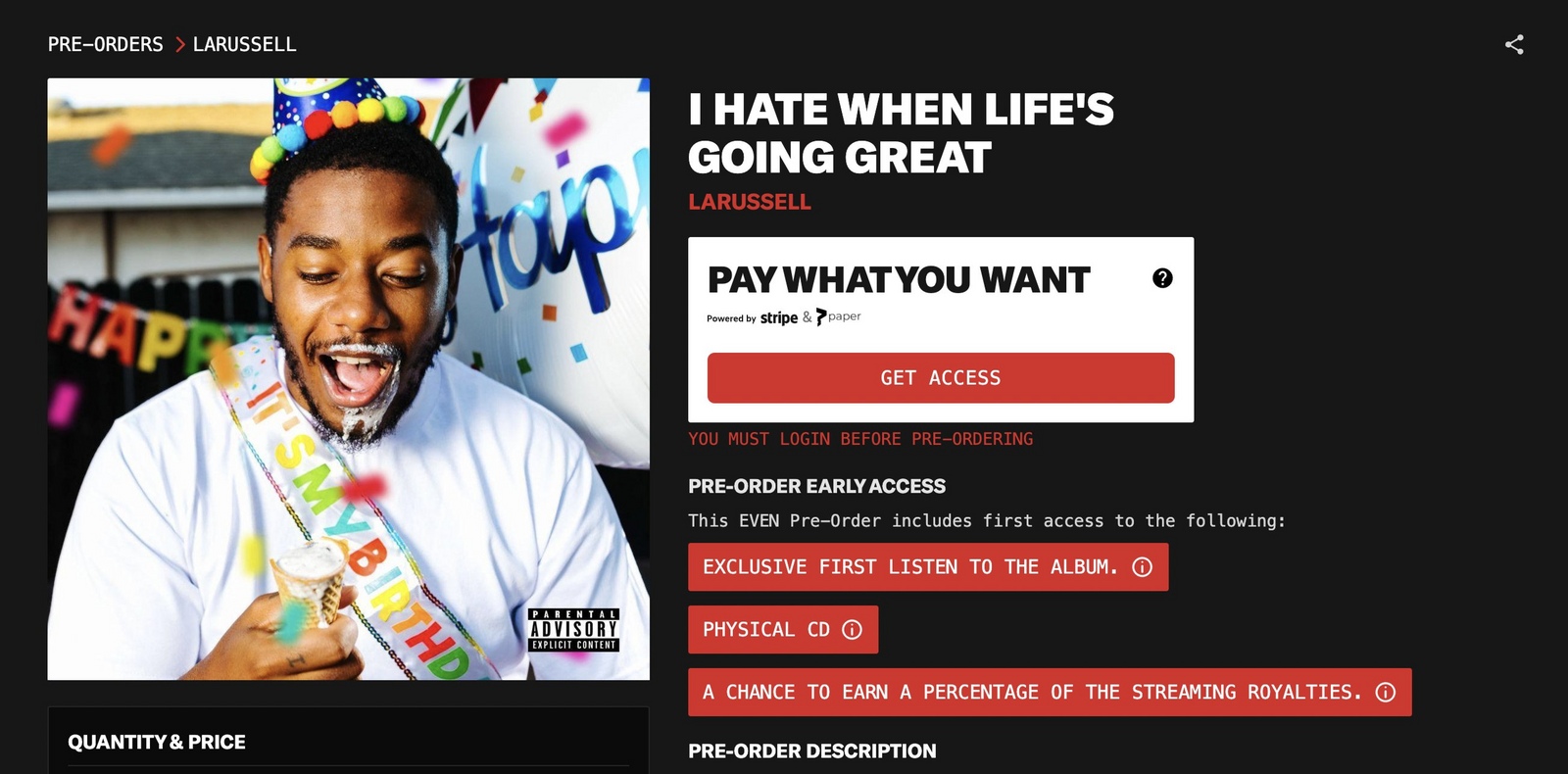 When building his cap table, Rodriguez made sure to include diverse fund managers like Raquel Filmanowicz, founder and managing partner at VC 414. CSA Partners led the $2.2 million seed round with investors including ANGELS, gener8tor, and angel investors Daniel Rotman, Adie Akuffo-Afful, and Ogo.
Read: "This Is The Final Straw": Drake And Universal Join Calls For AI Music Clamp Down
"This adds me to the list of under 650 Latino founders who have raised over $1M in venture capital… EVER," Rodriguez wrote on LinkedIn. "I hope to inspire other kids that look like me and that come from my community to build in this space that has been primarily occupied by people that don't like us."
The company plans to partner with artists like French Montana and experiment with products like a chat feature to allow artists and fans to communicate.
The company will use the seed money to hire new employees and help grow the business.