Black and Brown Folks Going Green and Taking Back the Cannabis Industry
The Cannabis industry is booming but rife with inequities and discrimination. American marijuana businesses are projected to have between $106 billion and $130 billion by 2024 on the US economy. Often referred to as the 'Green Rush', hundreds of lucrative weed businesses have popped up all over the US where weed is now legal. The problem? These businesses are predominately white-owned.
A 10+ billion dollar industry, and we own less than 1% of it.
The big cannabis players, most of them white-owned and backed by lucrative venture capital, don't face the same obstacles as minority entrepreneurs who face challenges like a limited number of marijuana licenses and access to funding. The most pressing barrier facing minority entrepreneurs is high marketplace entry costs and a small number of licences issued in states. Attempts to liberalize marijuana laws with programs specifically designed to promote entrepreneurs of color have been criticized for falling short.
The purpose of this article is to introduce you to some of the names not only establishing their place in the legal cannabis space but using their success to break down financial barriers for others, opening up doors of access for minority entrepreneurs.
C.J. Wallace, Willie Mack & Think BIG
C.J. Wallace, the son of the late East Coast rap legend Notorious BIG and Willie Mack, launched their own cannabis company, Think BIG, in 2019. They want to shed fear and stigma around the plant and also want others to embrace its potential for creativity, healing and criminal-justice reform.
"We have to figure out ways to fight for justice; to figure out ways to advocate for reinvestment in communities. We believe that this industry cannot move forward in a way that's going to be equitable … unless we address these cultural issues." Willie Mack tells MarketWatch.
In an interview with Forbes, the pair talk about their privileged position as Blackcannabis entrepreneurs with high profile connections, a legacy, and a team. But they want to use this privilege for the greater good. Think BIG is not just a cannabis company it's one focused on legalization and social justice reform.
Chris Webber, $100 million for POC cannabis entrepreneurs
Former NBA All-Star Chris Webber has teamed up with Jason Wild and JW Asset Management to create a $100 million private equity cannabis fund to invest in Black and POC entrepreneurs. Webber Wellness and JW will provide underrepresented entrepreneurs with access to several business resources, including research and development, cultivation, retail licensing, distribution, and marketing.
"It's crucial that we diversify leadership within the cannabis industry and level the playing field for people from our communities," Webber said in a statement. "For far too long, minorities have been excessively punished and incarcerated for cannabis while others profited"
Matt Barnes, Cannabis education and financial backing to minorities
"… I'm trying to help open doors for Black and Brown cannabis founders. I've personally been affected by the War on Drugs, with my father going to prison for dealing. With the industry booming, I want to make sure people of color can be involved and build successful businesses." Matt Barnes tells HustleCo
NBA Champ Matt Barnes is helping minority marijuana entrepreneurs thrive in the industry. He serves as an investor in pre-roll company Seven Leaves and — an advisor to the board of directors at Eaze, California's largest marketplace for legal cannabis. With Eaze, Barnes guides the company's Momentum Program — a business accelerator for minority entrepreneurs in the cannabis industry.
According to the program, grant participants receive a $50k grant and a 12-week business development program led by industry experts and support from Eaze's business, marketing, legal, and PR resources. Through education and financial backing, Barnes wants to help minority entrepreneurs obtain, maintain licences and build sustainable cannabis businesses.
Rapper Berner, Helping OG weed dealers out of the illicit market
Famous rapper turned cannabis entrepreneur Berner has built a half-billion-dollar cannabis empire with his company, Cookies cannabis dispensaries. Berner comes from humble roots and is a first-generation Mexican immigrant. Conscious of the fortunate opportunities that have helped him find success.
"Black and Brown communities set trends. It's important to realize that our personality and our aura brings a lot to the table… So make sure you get your equity, that your value is recognized. Use your aura to get through the door and work with someone, and work hard. And get equity, ask for something that can last forever." Berner says to Forbes
Berner actively seeks to empower other minority entrepreneurs to pursue their dreams. One of his goals is to get OG cannabis cultivators and breeders out of the illicit market and into the legal market. He wants to inspire his community to create lasting, intergenerational wealth.
Raekwon's, 'Cannabis for the people, by the people'
Wu-Tang Clan's Raekwon (aka born Corey Woods) has joined the cannabis space with an unprecedented project. He's invested in CitizenGrown, a company that is "cannabis for the people, by the people." With a unique business model, their mission is to provide US households with automated cannabis grow boxes that allow people to reap the rewards of this billion-dollar industry. Simply put, CitizenGrown is like passive income. They're paying individuals for just some space in their home.
For Raekwon, it's about equality and redistributing the profits from legal cannabis amongst the communities harmed the most by the War on Drugs. He wants to provide low-income households with the necessary tools, expertise, and educational opportunities to create wealth via cannabis.
Frances González, Fuelling cannabis entrepreneurship in the Latina community
Frances González has been recognized as one of the leaders in the women's entrepreneurs movement in cannabis. She launched Latinas Cannapreneurs, a non-profit organization aiming to inspire, educate and elevate the Latino community about the cannabis industry. She encourages Latinas to enter the industry by providing tools and resources in education, activism, and entrepreneurship. The Latinas Cannapreneurs Scholarship Fund offers scholarships to women who are passionate about their own entrepreneurial endeavours within the industry.
González's aim is to grow Latina entrepreneurship and provide a renewed sense of empowerment and inclusiveness within this green era.
Al Harrington, Making 100 Black millionaires in cannabis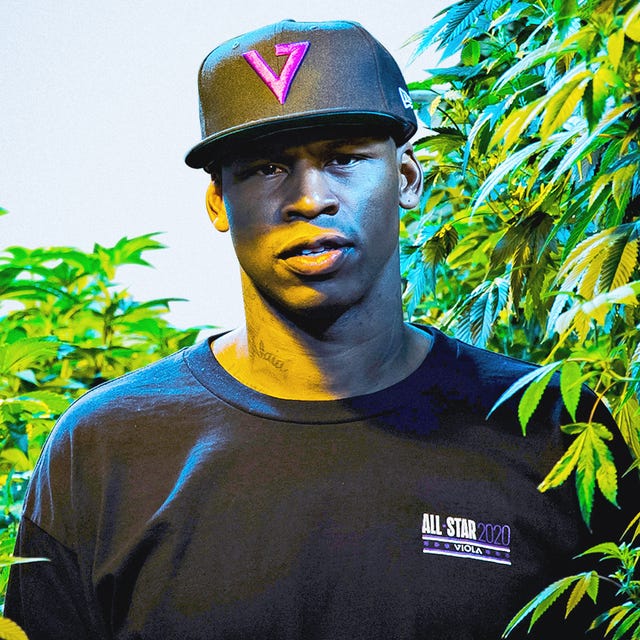 NBA veteran and CEO of Viola Brands, Al Harrington, is very familiar with weed and politics. Viola's incubator program puts money into minority-fronted weed operations that are crucial to communities—including a family-run farm in Tennessee that went from growing corn to hemp, an edibles company making weed-infused cooking essentials, and a chain of dispensaries in Oklahoma. One of Harrington's social equity goals is to create 100 Black millionaires through opportunities offered by the cannabis industry.
Like a lot of Black cannabis entrepreneurs in the game, Harrington recognizes the connection between weed and politics. He's been heavily involved with US politicians to talk about the realities of the legal cannabis industry and the difficulty minority small business owners face to get in and stay profitable within the industry.
Jay Z, Boosting Black participation
Jay Z has been applying his business savvy and expertise to the cannabis industry for years. Jay-Z serves as the Chief Brand Strategist for The California-based cannabis company, Caliva. His focus is to boost formerly incarcerated individuals' economic participation.
Jay-Z's cannabis brand Monogram, born through his partnership with Caliva, is making waves with an online series, 'High Tales' sharing stories of how our relationships with cannabis form and evolve, and what life is like in the world of legal cannabis. Monogram also launched a nationwide campaign targeting cannabis law.
On an entrepreneurial level, Jay -Z has been laser-focused on the social justice aspect of legal marijuana business endeavours. He's established a $10 million fund in partnership with his own cannabis startup, The Parent Company, to boost Black participation in the industry by providing up to $1 million in seed money for each venture it backs.
What does the future look like for cannabis entrepreneurs?
To help level the playing field, many Black and Brown entrepreneurs are using their influence and money to help open doors that were once sealed shut. However, barriers of access and arbitrary borders that outline who can benefit from a highly profitable market remain. There's a long way to go in getting a significant foothold in a $100 billion market.
The stigma surrounding cannabis is rapidly changing. Reclaiming our place in the industry means cash back into our communities, reducing inequities and building generational wealth for families. It's never been more important to take a big piece of the pie and reclaim our stake in cannabis.