How South African edtech startup, FoondaMate, is helping students study with WhatsApp
Following the first detection of the coronavirus in December 2019 in Wuhan, China, COVID-19 has reached pandemic proportions, affecting students and schooling at all levels.
In a March 2021 press release, the United Nations International Children's Emergency Fund (UNICEF) claimed that the temporary closure of educational institutions affected over 168 million children worldwide who stayed home as countries worked to flatten the curve.
Consequently, schools transited to online learning.
International human rights organization, Amnesty International, reported that students were cut off from schools when the COVID-19 pandemic hit South Africa, leaving hundreds and thousands of students without access to education.
South Africa has a 62% Internet penetration rate, which translates to 36.54 million Internet users with a 3.1% year-on-year (YoY) increase as of 2020. And WhatsApp is the country's most popular social media platform.
According to a social media report (PDF) by Global Wellbeing Index (GWI), 96% of South African Internet users use WhatsApp. Responding to the growing number of users, Dacod Magagula (CEO) and Tao Boyle (COO) founded FoondaMate, a WhatsApp API.
Students use FoondaMate to download research papers, search concepts, define words, and do simple mathematical calculations.
"We launched FoondaMate in South Africa in August 2020 after realizing that hundreds of thousands of students in our country were unable to learn because schools were closed due to lockdowns and the unavailability of appropriate technology products," Boyle explains.
"So, we developed a method for students to study online using WhatsApp," Magagula adds.
Why FoondaMate?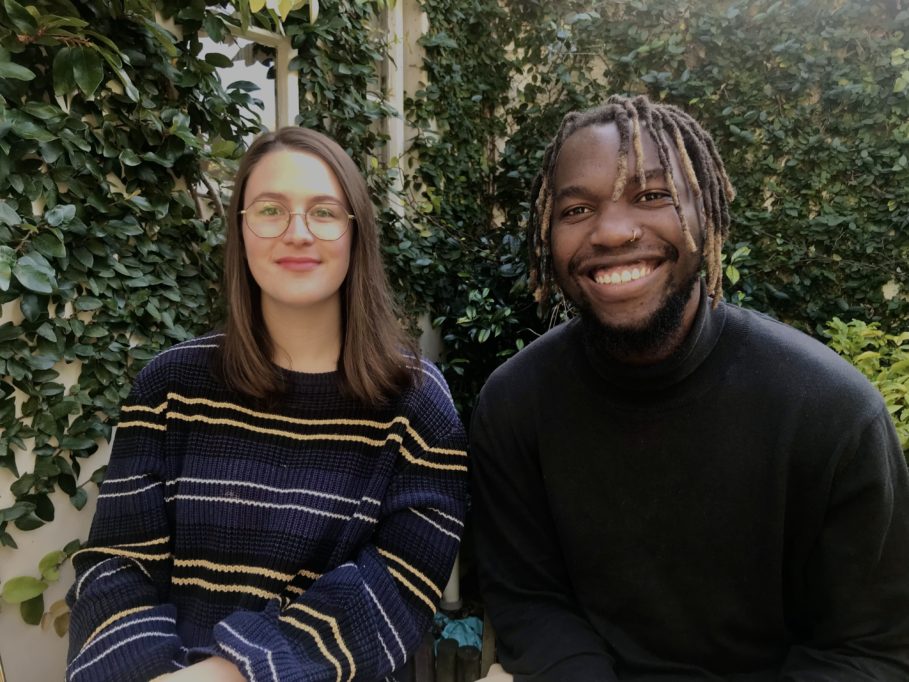 Growing up outside Mbombela in Mpumalanga, South Africa, Magagula says he was the only student in his high school class with access to a computer. His visits to local Internet cafes to download study material significantly impacted his life. He was the first student from his school to get into the University of Cape Town.
"Partly, this success can be attributed to the availability of resources I was exposed to," he says.
However, that was not the case for his co-founder.
Boyle attended a private high school in Cape Town with computers, but she faced education inequality in her third year at the University of Cape Town.
"I first encountered the issue of educational inequality during my third-year internship at Funda Wande, an NGO," she begins.
Her internship assignment required her to collect data on textbook spending in South Africa. This proved to be a turning point for her.
"This experience really got me thinking about scalable ways to address education inequality," she adds.
Boyle got to know Magagula through a friend. They conversed about educational inequality, and their exchanges resulted in the creation of FoondaMate.
"My co-founder and I met at the university, and the stark differences in our high school experience were a huge eye-opener for me," Boyle reveals.
"I always wished I could share resources with more students in the community. Therefore, when WhatsApp opened its API in 2020, my co-founder and I realized that my wish could become a reality. And there we started FoondaMate," Magagula says.
Using FoondaMate on WhatsApp
The name, FoondaMate is derived from siSwati, and translates to "study buddy." Describing the WhatsApp API, Boyle says it's like "messaging a very knowledgeable friend."
FoondaMate helps students with limited Internet access to study online using localized chatbots. 
To access study materials, search the web, or download practice questions and memos, click this link, and you'll see a WhatsApp web-like interface on your screen asking you to send 'hello'.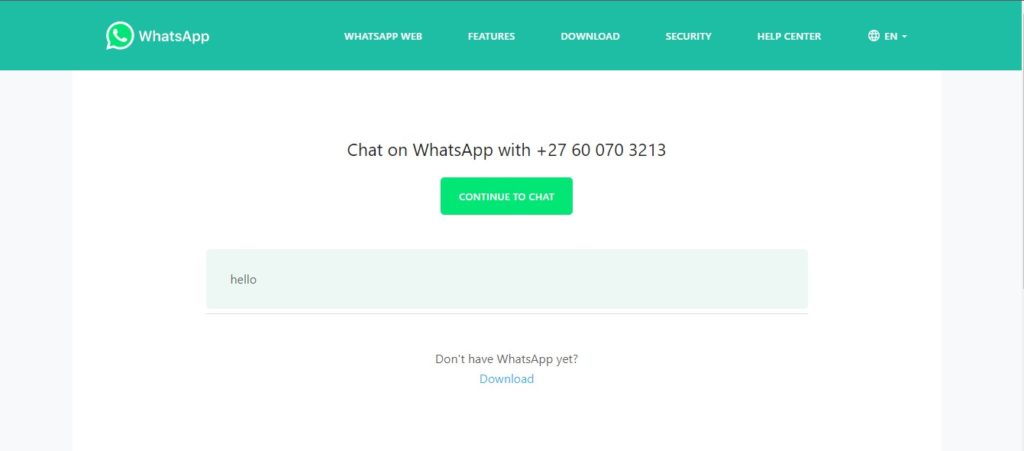 Click the green "Go to Chat" button and click on "Open WhatsApp" if you have WhatsApp installed on your device. You will be redirected to chat with Nelson, a chatbot.
FoondaMate wants students to succeed irrespective of the resources available in their schools or homes. They believe that talent is equally distributed, but opportunity is not.
The edtech startup plans to change this by making opportunities available to everyone by using a platform most students with a smartphone already have.
Considering the cost of traditional educational materials like textbooks and group tutoring in South Africa, FoondaMate helps save costs by offering those services on WhatsApp.
Some students with limited internal memory on their smartphones can't download the apps that give them access to online resources. So FoondaMate uses WhatsApp and Facebook Messenger already installed on users' phones to help them study.
Striking growth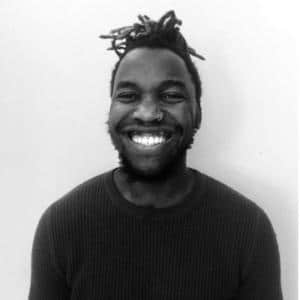 Speaking about their growth, Boyle says, "We have seen a 64% increase in signups month-on-month from May to June 2021, a 66% increase in Monthly Active Users (MAU) month-on-month from May to June 2021, and we just hit 138,870 signups for FoondaMate, which is a pre-revenue with initial pilot revenue to prove our business model."
FoondaMate also generates revenue through collaborations with financial institutions and post-secondary educational institutions. Partnering with financial institutions helps provide users with sponsored information on financial literacy while promoting its partners' relevant product offerings.
This helps users, many of whom are underprivileged, develop critical financial literacy skills while also expanding market opportunities for partners.
"For post-secondary educational institutions, we facilitate applications via FoondaMate, enabling them to increase the number of applicants to their programs," Boyle says.
Here, the critical value is their ability to connect these educational institutions with brilliant and engaged students who, otherwise, might not know about the institutions' programs.
From South Africa to the World
Like the Kenyan edtech startup, M-Lugha, helping Kenyans learn in their native language, FoondaMate engages its users in their indigenous languages. 
Boyle says, "making resources available in native languages creates a unique form of user delight that affirms its users while providing them with access to education."
FoondaMate is available in ten African languages. However, they are faced with a challenge.
"Building FoondaMate is challenging because we are not only building a technology but also introducing it to communities," Boyle says.
It's pretty tricky because the majority of their users have never interacted with a chatbot before. So, ensuring that users understand they are not chatting with a human is tough.
"We had users who wanted to become friends with Nelson, the chatbot, asking to meet up or have phone calls. That indeed is a challenge," Magaluga reveals.
"We have had to change our approach to make sure students actually understand that they are interacting with a bot so that they are not disappointed when they can't hang out with their new friend," Boyle expounds.
However, the edtech startup has recorded massive success since its launch in August 2020.
FoondaMate has reached over 130,000 students within Africa, Latin America, and Asia, who have downloaded over 1.8 million practice questions.
Although these questions are the same across all countries, the team is working on making them region-specific.
Though most users are from South Africa, people in other African countries like Lesotho, Eswatini, Zimbabwe, Zambia, Tanzania, Angola, Nigeria, Malawi, and Kenya also use FoondaMate.
In Latin American, FoondaMate's users come from Colombia and Brazil, while users in Asia are from Malaysia, the Philippines, and Indonesia. And FoondaMate is working on expanding to these areas.
"We are planning to double down on our growth in Latin America and Asia. We are seeing increasing interest in these regions, with requests to launch in India and Brazil, as well as customize the product for these regions," she says
In Africa, fintech startups continue to dominate the tech space and attract VC funding, and the co-founders believe that African edtech startups are overlooked. However, they also think that FoondaMate is paving the way in the tech space. 
"With Africa being the continent with the world's youngest population, and quickly growing, there is a massive demand for education here, and our growth really shows this," Boyle concludes.
This post was originally posted here.