New Orleans Senior Breaks Record With 180 College Offers And $9M In Scholarships
New Orleans high school senior Dennis Maliq Barnes has set a new national record by receiving more than $9 million in scholarships from 180 colleges and universities.
"I'm still getting letters"
The 16-year-old senior at the International High School of New Orleans (IHSNO) applied to 200 colleges across the country and has received offers from 180 so far. Local news channel WWL reports that Barnes aims to reach $10 million in offered scholarships by the end of the month.
"I am still getting letters. Decision letters were an overflow in my mailbox," Barnes told USA Today. "I'm proud of myself. I'm a Black man and you don't find that too often in the Black community… it stands out."
Barnes' achievement breaks the previous record held by Normadie Cormier, a Lafayette high school senior, who received $8.7 million in scholarships in 2019. IHSNO is contacting the Guinness Book of World Records to have Barnes' achievement recorded.
Computer science and criminal justice
In addition to a cumulative grade point average of 4.98, Barnes holds leadership positions in the National Honor Society. He is also fluent in Spanish and holds an official qualification from the Institute Cervantes. He was awarded the Jose Luis Baños Award for Excellence in Spanish Language by Maria Page, Honorary Consul of Spain in New Orleans.
Barnes has also been dual-enrolled at the Southern University of New Orleans for the past two years, earning college credits while pursuing his high school diploma.
He plans to pursue a dual undergraduate degree in computer science and criminal justice.
Barnes' success was motivated by his college admissions counselor Denise James.
"She's been essential and opened up a lot of opportunities for not only me but a lot of the seniors at International High School, and I really do appreciate her for that," he told ABC News.
James praised Barnes for his dedication to academics and eagerness to help his peers: "[Barnes] has demonstrated and handled the depth and complexities of his renowned academic accomplishments … He is humble, a goal-setter, a positive thinker, and his words of encouragement towards his peers are rewarding."
"Destined for great things"
His parents also expressed their pride at his accomplishments.
"We've known from an early age that Dennis was destined for great things," his father said. "The fact he received $9 million in scholarships is a true blessing and we can't wait for him to begin his college journey."
Barnes advises other seniors applying to colleges and scholarships to plan ahead, network with collegiate partners, and stay focused on their goals.
"One thing I would definitely encourage is to take your academics seriously. Make it a priority," he said.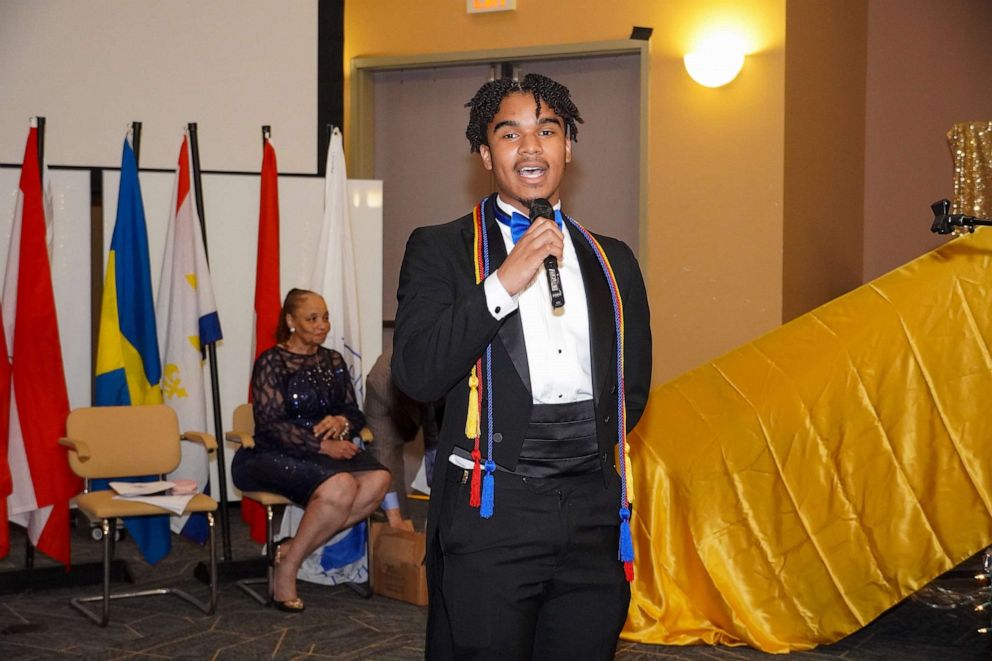 "When you do something, do it right. See it through, even on the days where you may feel like you don't want to do it, because those days are gonna come. It's not always going to be easy but you just have to be able to see through it and maintain that priority and determination to see what it is you want to get done."
Barnes, who turns 17 in August, plans to make a decision on which college or university to attend on May 2 and will graduate high school on May 24.