Black Medic Launches Digital Tool To Help Doctors Diagnose Conditions On Black And Brown Skin
As a Black medical student, Malone Mukwende was only taught to recognize clinical signs of disease on white skin. But many diseases look different on darker skin tones, leading to misdiagnosis, poor treatment, and even death.
As a result, Mukwende launched BlackandBrownSkin. Through innovative tools like the Mind the Gap handbook, the Hutano app, and, most recently, the "Diagnosing Skin of Colour" digital quiz, Mukwende is revolutionizing care for Black and Brown patients.
Red rashes, pale skin, blue lips
"On arrival at medical school, I noticed a lack of teaching about darker skin," he told the British Medical Journal. "We were often taught to look for symptoms, such as rashes, in a way that I knew wouldn't appear on my own skin."
When told to look out for red rashes or the patient "becoming pale" or their "lips turning blue," Mukwende knew that these descriptions often did not apply to people with darker skin. Even countries with majority Black and Brown people tend to rely on reference images of white patients.
"When I raised this with my tutors they often didn't know how else to describe the condition or they weren't aware of how they looked in darker skins. I was often told to find out for myself after the sessions—which I didn't think was the correct way to teach."
So, Mukwende worked with his lecturers at St George's University of London to develop "Mind the Gap: A Handbook of Clinical Signs in Black and Brown Skin."
The handbook showcases infectious diseases, skin cancer, meningitis, jaundice, eczema, psoriasis, COVID-19, and more on patients with dark skin.
It was almost as if the information didn't exist
The handbook has garnered international attention, with over 400,000 reads across 106 countries. Still, its success was not without obstacles.
"Gathering the information that we needed was probably one of the hardest things I've ever done," said the Forbes 30 Under 30 honoree.
"It was almost as if the information didn't exist, it was so hard to find. But that reiterated to me how important this work is—if I was struggling to find this information then imagine what it would be like for people who don't have the time or patience to search for it."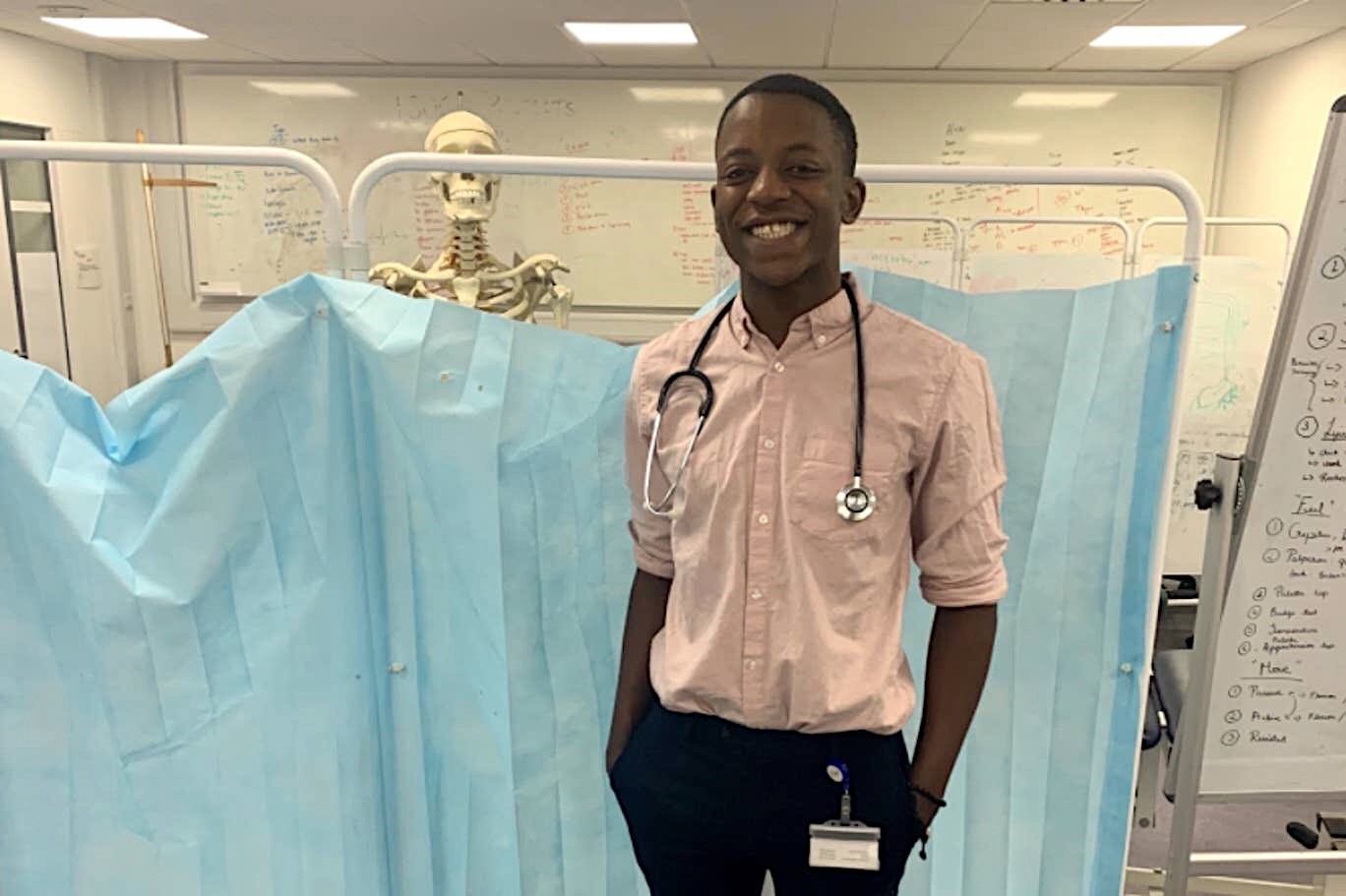 Mukwende's efforts have catalyzed systematic changes in hospitals and health services worldwide. His work prompted a review of the UK's digital urgent care system UK (NHS 111) and was discussed in the UK Parliament.
Mukwende has also collaborated with tech giants, delivering talks at prestigious institutions and engaging with global health companies to redefine what "normal" means in healthcare.
Taking it digital
The Hutano App
Complementing the Mind the Gap handbook, Mukwende later created the Hutano app, which translates to 'health' in his native language, Shona.
With over 3,000 users, the health social platform facilitates conversations and learning about various skin conditions, fostering a safe space away from traditional social media platforms.
The results have been truly eye-opening. The average score is 43.5%. Only one person has managed to score more than 70%.
The Diagnosing Skin of Color Quiz
Recently, the launch of an innovative digital quiz for medical professionals aimed at improving understanding and diagnosis of skin conditions on darker skin tones has shed light on the knowledge gap that exists.
On LinkedIn, Mukwende shared that 449 people have tried their hand at the quiz so far, and "the results have been truly eye-opening." The average score is 43.5%. Only one person has managed to score more than 70%.
"These statistics highlight the importance of bridging the knowledge gap and ensuring that medical professionals can accurately diagnose and treat skin conditions in patients with diverse skin colors," said Mukwende, who was born in Zimbabwe and now lives in London.
"If you haven't already invite you to take the quiz and challenge yourself to expand your expertise in this essential area of medical practice."
You can take the "Diagnosing Skin of Colour" quiz here.
---
Featured photo credit: Adama Jalloh for TIME